Puss In Boots: You Made The Cat Angry
0:00
Puss In Boots:
You Made The Cat Angry
In this scene from the spin-off movie from the Shrek franchise, Puss (Antonio Banderas) shows the other people in the tavern that he is a lot tougher than he looks.
kulcsfontosságú szókincs
ball of yarn
coming up
humble
score
the Law
reward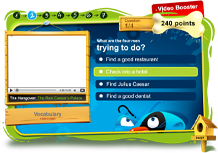 Kezdj el most angolul tanulni!
Video Booster egy 6 lépéses interaktív angol gyakorlat, ami segít az ebben a videóban látott és hallott angol szókincselemek, idiomatikus kifejezések és nyelvtan megtanulásában és gyakorlásában.
Free Trial
Ingyenes próbalehetőség
A Video Booster lejátszásához aktiváld a 3-napos ingyenes kipróbálási lehetőséget. Ezzel azonnal több mint 1000 ehhez hasonló videó alapú angol leckéhez, összes vizuális szótárunkhoz és angol nyelvtanuló játékunkhoz szerezhetsz hozzáférést.
Videó előnézet
Puss In Boots: You Made The Cat Angry
46 megjegyzések